BP1
Do you have any thoughts on this post?
PA Sportsmen and Women Urge Lawmakers Not to Abandon Job-Creating Conservation Projects
State budgets may be stretched thin, but now is not the time to borrow from successful conservation funding initiatives
You only need to walk into a tackle shop on a typical Saturday morning to understand that Pennsylvania's enviable natural resources are directly tied to outdoor recreation spending and jobs. Both the beauty of our lands and waters and strength of our outdoor recreation industry are particularly meaningful in the midst of a health and unemployment crisis.
But we wouldn't have these benefits without investments in conservation.
Right now, we're pushing back on legislation that would disrupt the flow of funds to critical job-creating conservation projects. Across the country, state budgets are being stretched by the COVID-19 response, but this is not the time to balance the budget with cuts to conservation. Here's why we're fighting this in PA.
A Track Record of Success
Twenty years ago, the Growing Greener Program was signed into law, securing the investment of $650 million in the state's natural resources over five years. Today, the state's Keystone Fund and Environmental Stewardship Fund help to restore and conserve lands and waters that power Pennsylvania's $26.9-billion outdoor recreation industry.
The diverse businesses in PA's outdoor recreation sector support more than 390,000 jobs and almost $17 billion in salaries and wages, and their employees generate over $300 million in federal, state, and local tax revenue. Plus, the demand for outdoor recreation opportunities has only increased during the COVID crisis.
Conservation projects keep Pennsylvanians working, too. More than 6,000 projects in 25 years have helped to conserve 190,000 acres of land, and to complete them, county conservation districts and nonprofits sustain a laundry list of well-paying jobs for workers across the state.
"These projects employ public works staff, conservation district staff, local surveyors, general contractors, excavators, farm operators, equipment rental and sales companies, and agriculture consultants, such as crop advisers, nutrition specialists, and farm plan writers," says Sarah Xenophon, a watershed technician for Penn State College of Agricultural Sciences. She often works with sportsmen's groups, landowners, and nonprofits to use Keystone Fund and Environmental Stewardship Fund dollars to improve fish and wildlife habitat.
These partnerships are key to getting more bang for state bucks. The ESF and Keystone Fund leverage public/private partnerships to amplify the impact of public conservation dollars. Continuing to allow them to fund shovel-ready projects ensures that we keep this critical part of Pennsylvania's economy open. It allows us to put small businesses to work on our natural infrastructure and environmental services that build our resilience to natural events, like flash floods.
Here are just a few examples of projects made possible by the Keystone Fund and Environmental Stewardship Fund with benefits for hunters and anglers.
Critical Waters
In March 2015, the Wildlands Conservancy received $1.3 million from the Keystone Fund to help purchase land adjacent to state game lands in Wayne and Lackawanna County and transfer them to the Pennsylvania Game Commission for public use. This purchase permanently protects approximately 500 acres of wetlands, including the headwaters of the Lehigh River, and provides drinking water for 180,000 residents.
Trees for Trout
In 2018, the Donegal Chapter of Trout Unlimited received $50,000 from the Environmental Stewardship Fund to construct 15 acres of riparian forest buffers on wild trout streams in southern Lancaster county. The grant, administered through the Pennsylvania Department of Conservation and Natural Resources, requires a one to one match that the chapter provided through in-kind volunteer hours and trees from its nursery.
The Little J
In 2008, the Little Juniata River Association used $102,000 from the Keystone Fund to preserve public access to five miles of class A wild trout waters along the Little Juniata River, which is known for its healthy wild brown trout and excellent dry fly fishing. The area draws anglers from across the mid-Atlantic and beyond—in fact, President Eisenhower and President Carter both visited the area while in office to sample some of the best fishing that central Pennsylvania has to offer.
"The nation behaves well if it treats the natural resources as assets which it must turn over to the next generation increased, and not impaired, in value."
– Theodore Roosevelt
Aug 29, 1910
Prevent Cuts to Conservation
As in years past, attempts are being made to disrupt 30 years of stabilized funding for conservation projects provided by these funds. Specifically, amended language to House Bill 1822 would freeze funding for any new conservation contracts coming from the Keystone Fund, ESF, and county conservation district funds. Meanwhile, other proposals have been made to alter the way these funds are appropriated.
As sportsmen and women, we need to send a strong message that now is not the time to stop funding conservation. Continued investments mean more opportunities to find solace in the outdoors during a very uncertain time, but this funding supports job creation, as well.
If you are from Pennsylvania, your state lawmakers need to hear from you today. Click here to take action. Supportive out-of-state hunters and anglers, please consider asking friends or family to sign our action alert. In-state voices will have the most impact, but our fish and wildlife are here for you, too.
Click here to visit our Conservation Works for America webpage, and learn how investments in conservation can create jobs, rebuild our economy, and improve the health of our communities.
Top photo of Pennsylvania's state fish, the brook trout, by Derek Eberly.
TRCP Challenges Hunters and Anglers to Take the #ResponsibleRecreation Pledge
Sportsmen and women step up to safeguard the privilege of enjoying our country's natural resources
The Theodore Roosevelt Conservation Partnership is proud to help launch the #ResponsibleRecreation pledge, which encourages Americans to enjoy outdoor recreation while adhering to proper COVID-19 safety protocols.
The coordinated campaign was created with respected conservation leaders at the National Wild Turkey Federation, Congressional Sportsmen's Foundation, Ducks Unlimited, Trout Unlimited, Pheasants Forever, and Association of Fish and Wildlife Agencies.
These groups are encouraging Americans to take advantage of our country's numerous opportunities to recreate on public lands and waters, while maintaining proper social distancing and adhering to other best practices in line with recommendations from the Center for Disease Control and Prevention.
"Whether participating in hunting, fishing, shooting sports, or numerous other outdoor activities, individuals and families are getting outside as a means of coping with the challenges of this health crisis," says Whit Fosburgh, TRCP's president and CEO. "The conservation community recognizes that this is a privilege, one that sportsmen and women take very seriously. Just as we've stepped up to fund conservation efforts and recover at-risk species, hunters and anglers have yet another opportunity to lead by example and ensure that outdoor recreation can continue to delight and facilitate healing for anyone who ventures outside."
Outdoor television personalities, gear makers, and conservation-minded decision-makers are already embracing the pledge.
"As parts of the country are beginning to reopen and the weather warms up, we will see growing numbers of Americans spend more time in the great outdoors," says Congressman Marc Veasey. "As an avid sportsman myself, I am eager to get back outside, but in a way that will not accelerate the spread of COVID-19. That means practicing responsible recreation by continuing to socially distance, wear appropriate face coverings when needed, and follow proper health guidelines to protect our fellow Americans."
While many of the organizations involved in spearheading the #ResponsibleRecreation pledge have their own interests—namely, hunting, fishing, or shooting sports—the hope is to engage anyone who enjoys the outdoors safely and responsibly. Outdoor enthusiasts are encouraged to share how they are recreating responsibly, challenge their friends to do the same, and use the campaign hashtag across social media.
"Now more than ever, Americans want to recreate outdoors for the health, physical, and social benefits," says Jessica Wahl Turner, executive director of the Outdoor Recreation Roundtable. "As our country begins to reopen, we encourage outdoor enthusiasts to continue practicing social distancing, respect the communities you visit, and follow the health guidelines applicable to your activities. If we work together to steward the outdoors and keep safety top of mind, we can help our public lands and waters remain open and get our recreation economy and jobs back on track."
Visit responsible-recreation.org to learn more.
The TRCP will also ask those who take the pledge to reach out to their national decision-makers in support of legislation that can improve outdoor recreation infrastructure across the country. Visit the TRCP action center for the most pressing opportunities for advocacy.
VA Cuts Menhaden Quota, But Omega Retains Dubious "Sustainable" Label
All the strikes against the industrial fishing operation's claim of sustainability
In more good news for Atlantic menhaden, the Virginia Marine Resources Commission announced last week that it would set a lower quota for Omega Protein's industrial harvest operation in the 2020 season. The company brazenly defied the established catch limits on menhaden in the Chesapeake Bay last year, and fisheries managers rejected their request to scale back for the overage more gradually over the course of the next two seasons.
Omega's rapacious appetite for harvesting as many menhaden as it possibly can is hardly breaking news. For decades, the foreign-owned company has had a monopoly on a public marine resource, threatening the ecology and economy of the Chesapeake Bay and Atlantic coastal communities.
Anglers know firsthand why menhaden are called the most important fish in the sea: Because they are extremely valuable food for many popular and valuable game fish, including striped bass, red drum, bluefish, cobia, tuna, and flounder. Leaving more of these crucial forage in the water is one of the Theodore Roosevelt Conservation Partnership's key conservation initiatives.
Which is why it is so hard to fathom how Omega Protein can be called "sustainable" in the first place, let alone keep its certification from the Marine Stewardship Council—an international organization that helps determine which fisheries qualify for a seal of approval. Given the fact that Omega willfully blasted past the legitimate Bay cap by more than 30 percent in 2019, one would think the company would be sheepish about continuing to flout this specious sustainability claim.
If legitimately earned, these labels allow consumers to make informed seafood choices. And companies can typically charge a premium to recoup costs associated with being more environmentally responsible. To earn the MSC "blue checkmark" label, for example, seafood companies are required to follow internationally recognized best practices for operating healthy, sustainable fisheries while causing minor impacts on the marine food chain. But the MSC is a for-profit venture, and despite the blowback from anglers, Omega seemed able to buy their way to "sustainability" in 2019.
This was before the company violated the Bay cap last fall, but after it was cited for Clean Water Act violations and paid a $400,000 fine to the Security and Exchange Commission for misleading investors.
Fisheries managers, however, are holding Omega accountable. In October, the Atlantic Marine Fisheries Commission–the coastal board of professionals that manages shared marine resources–unanimously voted Virginia out of compliance with its menhaden management plan.
Then, in December 2019, U.S. Secretary of Commerce Wilbur Ross upheld the ASMFC's ruling and imposed a moratorium on all menhaden fishing in Virginia waters, effective June 17, 2020, until the state—and, really, just Omega—comes into compliance. The Theodore Roosevelt Conservation Partnership and its partners, along with Virginia Governor Ralph Northam and eight other East Coast governors, helped persuade Secretary Ross to hold Omega accountable.
Full compliance with the ASMFC's management plan is important, because if the moratorium takes effect, it could have severe economic consequences—not only for Omega's workers, but also for Bay watermen, charter captains, tackle shop owners, and recreational fishermen.
This isn't what sportfishing groups want to see happen.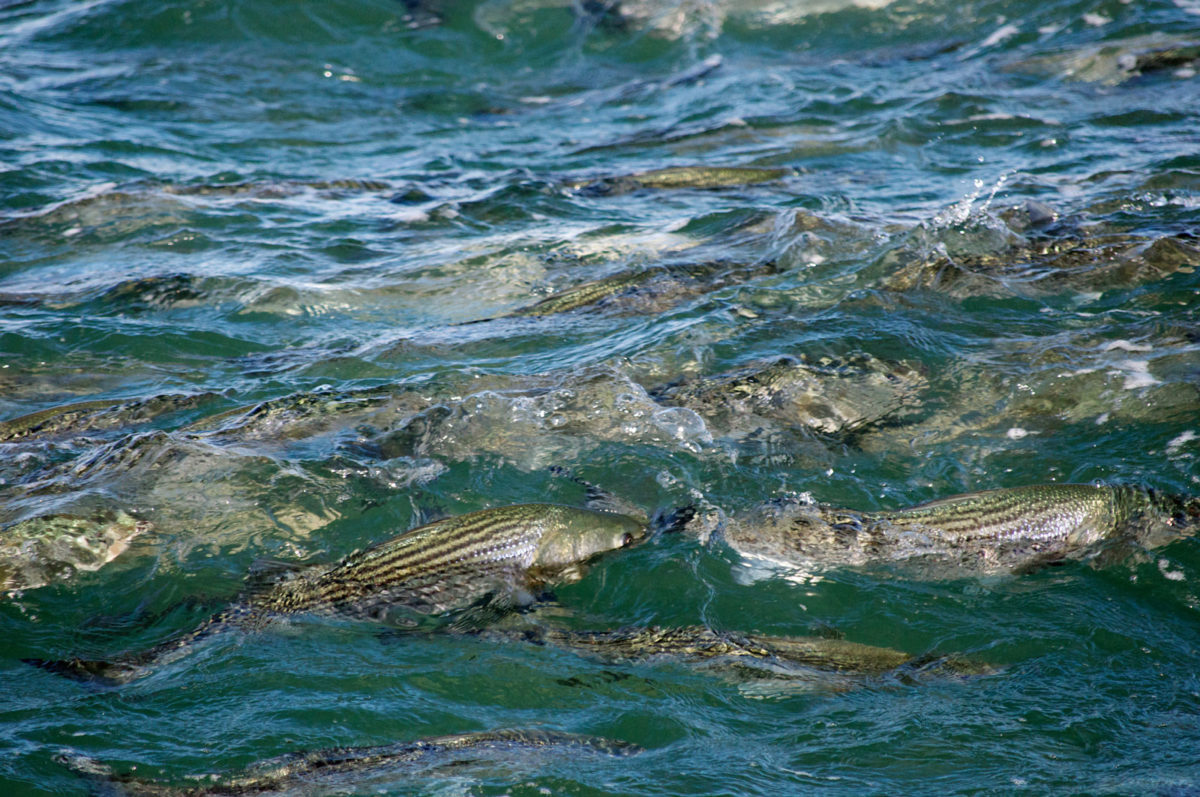 Thankfully, the Virginia General Assembly recently passed historic legislation that transfers authority for managing menhaden from the state legislature, where it has been highly politicized for decades, to the Virginia Marine Resource Commission, which was already effectively managing all other marine fisheries in the state—including striped bass, crabs, and oysters. The TRCP and its sportfishing partners played a pivotal role in getting this landmark legislation across the finish line.
Both the new law transferring management authority and the VMRC's swift action to limit Omega's harvest this year are historic wins for marine conservation. Later this year, the ASMFC is expected to vote on a new plan for managing menhaden according to their broader ecological value, which offers another opportunity to advance the sound conservation of such a vital resource.
With so many groups invested in securing the future of this forage fish, could it be time for MSC to rethink their tacit endorsement of Omega Protein and yank the "sustainable" label? If you ask me, sucking up thousands of tons of critical food for our most important game fish and disrupting the marine food chain, is about as far from being a responsible steward of a public resource as you can get.
Incredibly, SAI Global, an independent auditor for the MSC that supported Omega's accreditation, claimed "there is no firm evidence" that the operation affects the species' sustainability. Recreational anglers and conservationists know better. That's why we have objected at every stage of the certification process.
Without a doubt, there is much at stake to keep the pressure on Omega Protein to be accountable for their actions. Sportfishing is both culturally and economically important to the Chesapeake and mid-Atlantic region. According to a 2016 study by Southwick Associates, striped bass generated almost $8 billion to our country's GDP. Thousands of jobs tied to a healthy striper population—charter captains, marinas, bait and tackle shops, hotels, and restaurants, to list several—are at risk if menhaden populations are overfished. Moreover, 32 percent of recreational and 69 percent of commercial harvest of stripers comes from the Chesapeake, resulting in a combined economic impact of approximately $2.5 billion.
In Virginia alone, striped bass drove more than $240 million in economic activity just a decade ago. Sadly, those numbers have plummeted to just over $100 million annually. The recent decline in the population of this marquee game fish has already resulted in reduced seasons and creel limits, putting the livelihoods of many coastal residents in jeopardy. In fact, striped bass charters in 2019 were down between 50 and 100 percent in some areas. The uncertainty surrounding COVID-19 has already added to the stress.
Reminder: Omega's industrialized fleet is the last of its kind on the entire East Coast. All other states have banned reduction fishing using such highly mechanized boats, nets, and gear. And yet Omega—and Daybrooke in the Gulf of Mexico—continues to pulverize these protein-packed fish into oils and powders used in health supplements and, increasingly, as feed for overseas aquaculture operations.
Omega's operation is particularly nettlesome on the Chesapeake, where concerns over localized depletion have persisted for decades and conflicts with anglers are on the upswing. When Omega Protein flouts its industrial operation as "sustainable," it's a step too far. Especially given that state and coastal fishery leaders have taken encouraging steps to better manage menhaden, the label simply doesn't fit.
Captain Chris Dollar is a professional fishing guide, tackle shop owner, all-around Chesapeake outdoorsman, and writer.
Top photo by the Bywaters via flickr.
Senate Committee Advances Water Infrastructure Legislation
Bipartisan bill would create jobs, benefit aquatic ecosystems
The Senate Environment and Public Works Committee has passed legislation to invest in water infrastructure, remove barriers to the use of natural infrastructure, and combat invasive species.
The America's Water Infrastructure Act of 2020 passed the committee by a vote of 21 to 0.
"Investing in water infrastructure creates jobs, benefits aquatic ecosystems, and spurs healthier habitat, fisheries, and wildlife," said Whit Fosburgh, president and CEO of the Theodore Roosevelt Conservation Partnership. "We want to thank the committee for helping reduce barriers to the use of natural infrastructure, combat invasive species, and incentivize innovation."
The bill contained several conservation components, including:
Investing in natural infrastructure
Addressing toxic algal blooms in the Everglades and Great Lakes
Remedy issues caused by invasive species
Funding watercraft inspection and decontamination stations
Modernizing aging irrigation delivery systems to reduce pressure on river systems that face drought
Top photo by Florida Fish and Wildlife
HOW YOU CAN HELP
CHEERS TO CONSERVATION
Theodore Roosevelt's experiences hunting and fishing certainly fueled his passion for conservation, but it seems that a passion for coffee may have powered his mornings. In fact, Roosevelt's son once said that his father's coffee cup was "more in the nature of a bathtub." TRCP has partnered with Afuera Coffee Co. to bring together his two loves: a strong morning brew and a dedication to conservation. With your purchase, you'll not only enjoy waking up to the rich aroma of this bolder roast—you'll be supporting the important work of preserving hunting and fishing opportunities for all.
Learn More