All the strikes against the industrial fishing operation's claim of sustainability
In more good news for Atlantic menhaden, the Virginia Marine Resources Commission announced last week that it would set a lower quota for Omega Protein's industrial harvest operation in the 2020 season. The company brazenly defied the established catch limits on menhaden in the Chesapeake Bay last year, and fisheries managers rejected their request to scale back for the overage more gradually over the course of the next two seasons.
Omega's rapacious appetite for harvesting as many menhaden as it possibly can is hardly breaking news. For decades, the foreign-owned company has had a monopoly on a public marine resource, threatening the ecology and economy of the Chesapeake Bay and Atlantic coastal communities.
Anglers know firsthand why menhaden are called the most important fish in the sea: Because they are extremely valuable food for many popular and valuable game fish, including striped bass, red drum, bluefish, cobia, tuna, and flounder. Leaving more of these crucial forage in the water is one of the Theodore Roosevelt Conservation Partnership's key conservation initiatives.
Which is why it is so hard to fathom how Omega Protein can be called "sustainable" in the first place, let alone keep its certification from the Marine Stewardship Council—an international organization that helps determine which fisheries qualify for a seal of approval. Given the fact that Omega willfully blasted past the legitimate Bay cap by more than 30 percent in 2019, one would think the company would be sheepish about continuing to flout this specious sustainability claim.
If legitimately earned, these labels allow consumers to make informed seafood choices. And companies can typically charge a premium to recoup costs associated with being more environmentally responsible. To earn the MSC "blue checkmark" label, for example, seafood companies are required to follow internationally recognized best practices for operating healthy, sustainable fisheries while causing minor impacts on the marine food chain. But the MSC is a for-profit venture, and despite the blowback from anglers, Omega seemed able to buy their way to "sustainability" in 2019.
This was before the company violated the Bay cap last fall, but after it was cited for Clean Water Act violations and paid a $400,000 fine to the Security and Exchange Commission for misleading investors.
Fisheries managers, however, are holding Omega accountable. In October, the Atlantic Marine Fisheries Commission–the coastal board of professionals that manages shared marine resources–unanimously voted Virginia out of compliance with its menhaden management plan.
Then, in December 2019, U.S. Secretary of Commerce Wilbur Ross upheld the ASMFC's ruling and imposed a moratorium on all menhaden fishing in Virginia waters, effective June 17, 2020, until the state—and, really, just Omega—comes into compliance. The Theodore Roosevelt Conservation Partnership and its partners, along with Virginia Governor Ralph Northam and eight other East Coast governors, helped persuade Secretary Ross to hold Omega accountable.
Full compliance with the ASMFC's management plan is important, because if the moratorium takes effect, it could have severe economic consequences—not only for Omega's workers, but also for Bay watermen, charter captains, tackle shop owners, and recreational fishermen.
This isn't what sportfishing groups want to see happen.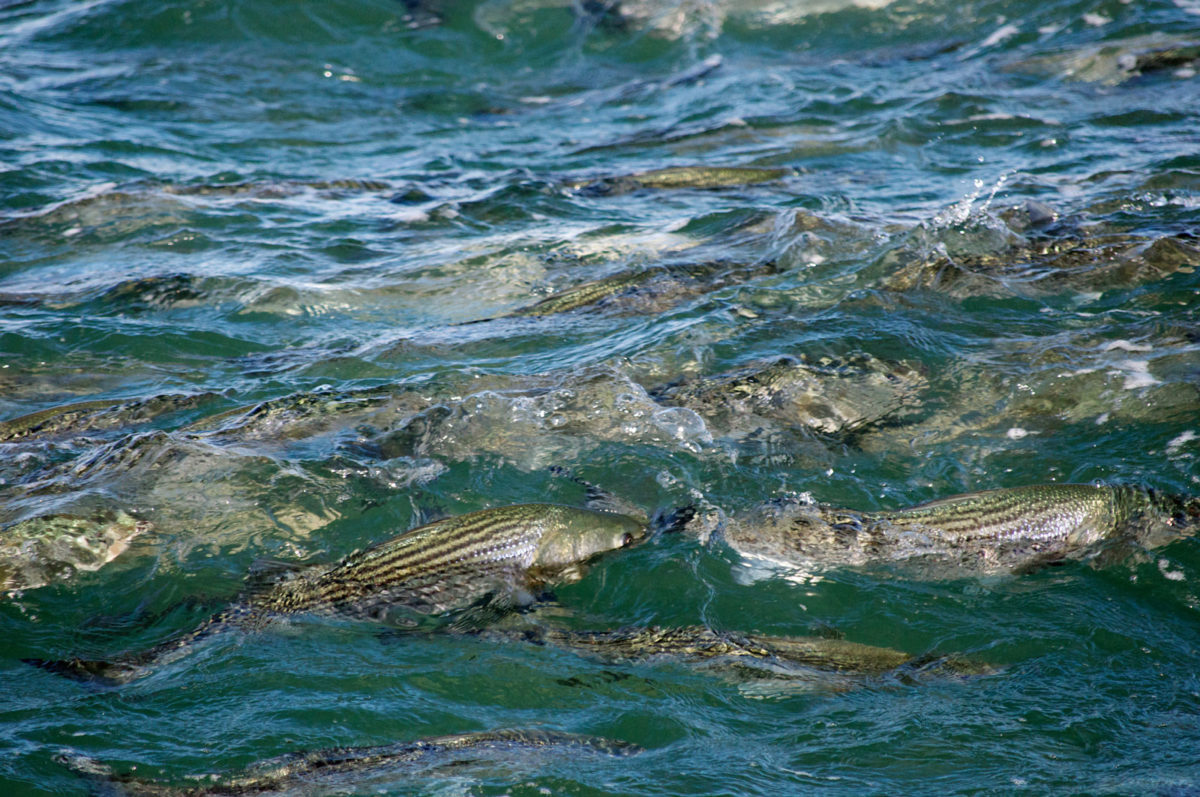 Thankfully, the Virginia General Assembly recently passed historic legislation that transfers authority for managing menhaden from the state legislature, where it has been highly politicized for decades, to the Virginia Marine Resource Commission, which was already effectively managing all other marine fisheries in the state—including striped bass, crabs, and oysters. The TRCP and its sportfishing partners played a pivotal role in getting this landmark legislation across the finish line.
Both the new law transferring management authority and the VMRC's swift action to limit Omega's harvest this year are historic wins for marine conservation. Later this year, the ASMFC is expected to vote on a new plan for managing menhaden according to their broader ecological value, which offers another opportunity to advance the sound conservation of such a vital resource.
With so many groups invested in securing the future of this forage fish, could it be time for MSC to rethink their tacit endorsement of Omega Protein and yank the "sustainable" label? If you ask me, sucking up thousands of tons of critical food for our most important game fish and disrupting the marine food chain, is about as far from being a responsible steward of a public resource as you can get.
Incredibly, SAI Global, an independent auditor for the MSC that supported Omega's accreditation, claimed "there is no firm evidence" that the operation affects the species' sustainability. Recreational anglers and conservationists know better. That's why we have objected at every stage of the certification process.
Without a doubt, there is much at stake to keep the pressure on Omega Protein to be accountable for their actions. Sportfishing is both culturally and economically important to the Chesapeake and mid-Atlantic region. According to a 2016 study by Southwick Associates, striped bass generated almost $8 billion to our country's GDP. Thousands of jobs tied to a healthy striper population—charter captains, marinas, bait and tackle shops, hotels, and restaurants, to list several—are at risk if menhaden populations are overfished. Moreover, 32 percent of recreational and 69 percent of commercial harvest of stripers comes from the Chesapeake, resulting in a combined economic impact of approximately $2.5 billion.
In Virginia alone, striped bass drove more than $240 million in economic activity just a decade ago. Sadly, those numbers have plummeted to just over $100 million annually. The recent decline in the population of this marquee game fish has already resulted in reduced seasons and creel limits, putting the livelihoods of many coastal residents in jeopardy. In fact, striped bass charters in 2019 were down between 50 and 100 percent in some areas. The uncertainty surrounding COVID-19 has already added to the stress.
Reminder: Omega's industrialized fleet is the last of its kind on the entire East Coast. All other states have banned reduction fishing using such highly mechanized boats, nets, and gear. And yet Omega—and Daybrooke in the Gulf of Mexico—continues to pulverize these protein-packed fish into oils and powders used in health supplements and, increasingly, as feed for overseas aquaculture operations.
Omega's operation is particularly nettlesome on the Chesapeake, where concerns over localized depletion have persisted for decades and conflicts with anglers are on the upswing. When Omega Protein flouts its industrial operation as "sustainable," it's a step too far. Especially given that state and coastal fishery leaders have taken encouraging steps to better manage menhaden, the label simply doesn't fit.
Captain Chris Dollar is a professional fishing guide, tackle shop owner, all-around Chesapeake outdoorsman, and writer.
Top photo by the Bywaters via flickr.